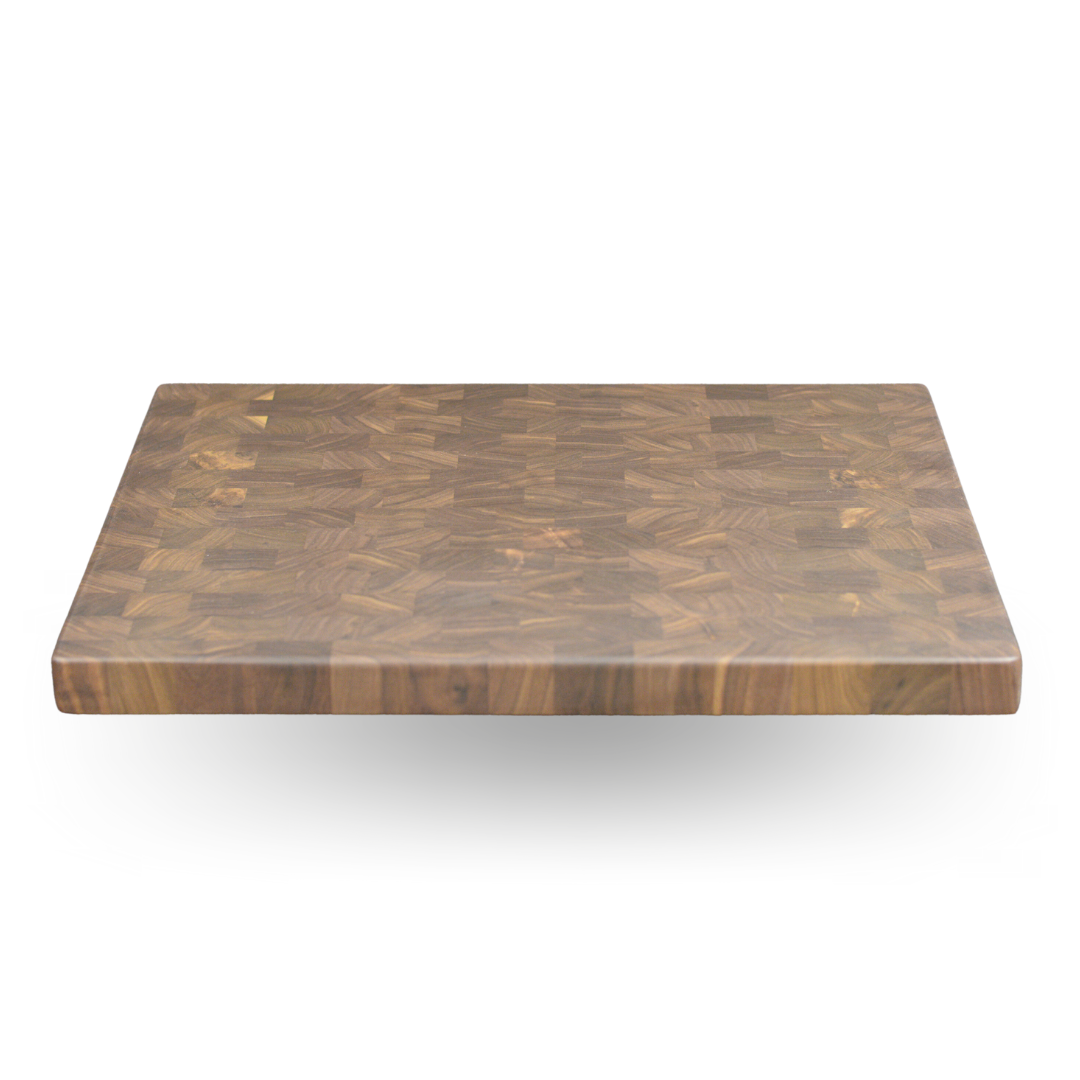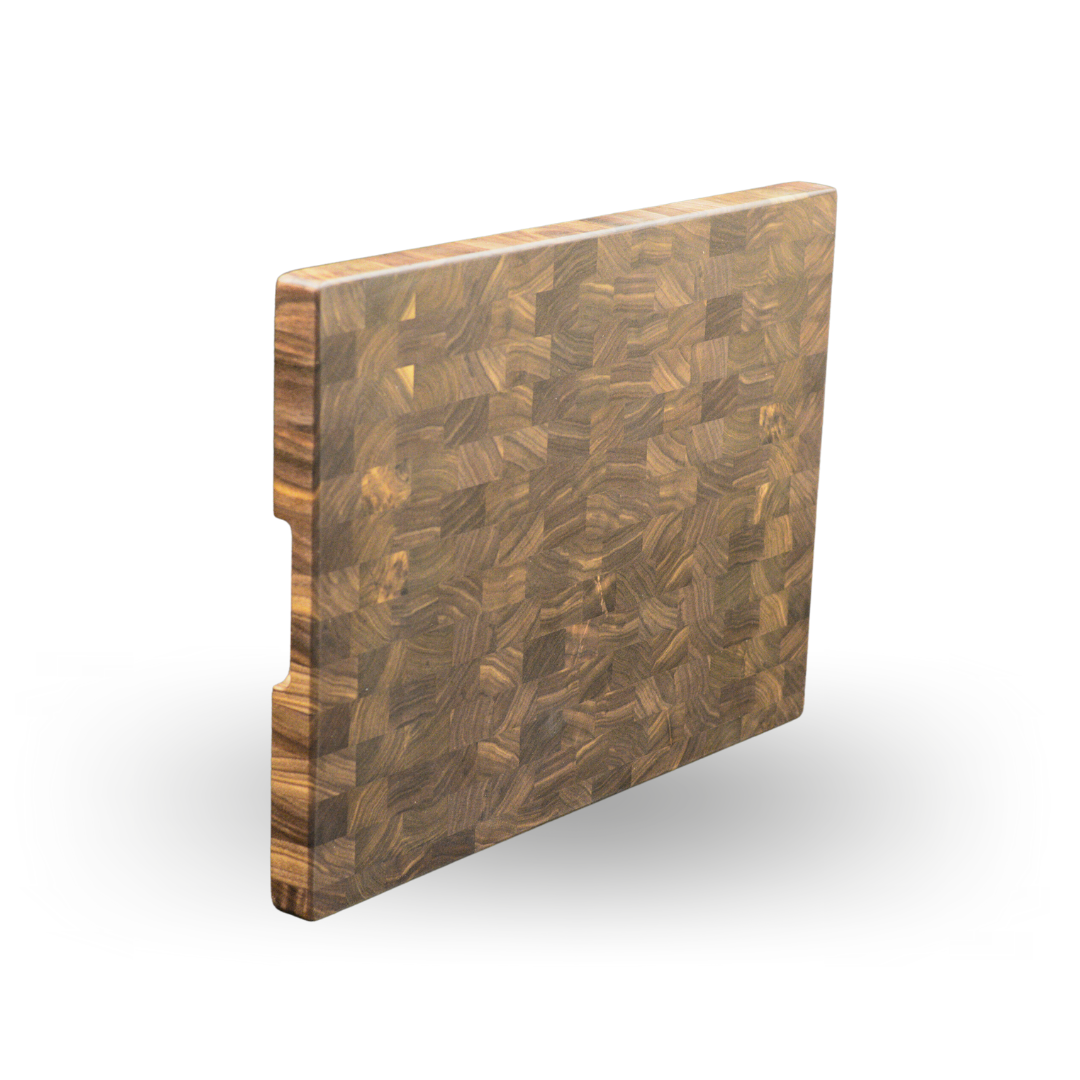 End Grain Cutting Board - Walnut (16"x22")
Introducing our handmade End Grain Walnut Cutting Boards, crafted with care in our small workshop to ensure the highest quality product. Made from premium quality walnut, each board showcases the unique and natural beauty of this stunning hardwood. Available in multiple sizes and thicknesses, our cutting boards offer versatility for all your food prep needs.
Our End Grain Walnut Cutting Boards are crafted by cutting the wood along the grain and then arranging the resulting wood pieces vertically to form a durable and visually stunning surface. This process creates a surface that is gentle on knives, helping to keep them sharp for longer. Each board features a unique pattern of wood grain that adds a touch of elegance to any kitchen.
We offer a range of options to suit your individual needs, including different options for adding handles, a juice groove to catch liquids, and rubber feet to prevent slipping during use. We pride ourselves on using only 100% natural finishes that are free from petroleum products, making our cutting boards an eco-friendly and safe choice for your kitchen.
Invest in a high-quality End Grain Walnut Cutting Board today and experience the perfect combination of beauty and functionality in your kitchen. Whether you're a home cook or a professional chef, our cutting boards will meet all your food prep needs while adding an elegant touch to your kitchen décor.
Please note that our products may take 1-4 weeks to ship as we custom build our boards to your preference.  We do sometimes have pre-made boards available; please contact us for details.
Always hand-wash your wood cutting board. Never put a wood board or other wood items (like salad bowls and spoons) in the dishwasher or submerge them in a sink full of water because they'll warp and/or crack.

If you can't clean your board right after preparing food, just leave it on your counter until you can get to it. In some situations, you may not even need to wash it. If you've only sliced bread, just brush away the crumbs or wipe the surface clean with a damp cloth or paper towel.

If your board does need cleaning, first gently remove any stuck-on bits of food using a bench scraper or metal spatula. If there are any stubborn stains, you can create a slurry of baking soda and water and gently rub the mixture onto the board using a Scotch-Brite sponge.

Gently scrub your board with a sponge and hot, soapy water (we recommend using a mild unscented dish soap, such as Seventh Generation Free & Clear Dish Liquid). It's important to wash both sides of the board (even if you chopped on only one side) to prevent it from drying unevenly, which could cause the board to warp.

Rinse the board and dry it thoroughly with a clean dish towel or paper towels. Stand it upright on your counter to prevent any residual water from pooling, and let it air-dry completely before you store it.
Thank you for your order! Please note that most of our products are custom and made-to-order, so they require a processing time of 1-4 weeks. We carefully craft each item with attention to detail to ensure its quality. Once your order is ready, we will ship it to you promptly, and you will receive a shipping confirmation with tracking information. We appreciate your patience and understanding as we strive to deliver exceptional handmade products to you.